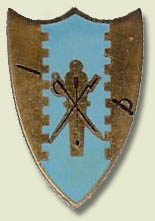 4th Cavalry Regiment Distinctive Unit Insignia
The shoulder sleeve insignia is that of the U.S. Army, Europe insignia with the addition of the "Berlin" tab.
The attack on the entrenchments at Selma is symbolized by the embattled blue pale and red bayonet. The capture of Hood's artillery is shown by the reversed cannon, the rout of the enemy's cavalry at Murfreesboro by the reversed saber, and the successful Indian campaigns by the reversed arrow.
Design approved November6, 1922.