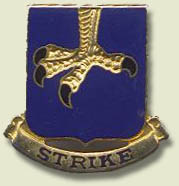 502d Infantry Regiment Distinctive Unit Insignia
Motto: "STRIKE"


The blue is for Infantry. The grasping eagle's claw is a representation of the airborne functions of the organization. The motto is expressive of the power of the organization.
The distinctive unit insignia was originally approved for the 502d Parachute Infantry Regiment on 14 Nov 1942. It was redesignated for the 502d Airborne Infantry Regiment on 5 Apr 1949. On 14 Feb 1958 the insignia was redesignated for the 502d Infantry.