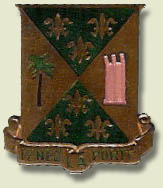 759th Military Police Battalion Unit Insignia
Motto: "TENEZ LA PORTE"
The colors are green and yellow for Military Police. The organization's World War II service in the European Theater is symbolized by the fleurs-de-lis and in North Africa by the palm tree. The Airlift Monument, erected in the Western Sector of Berlin, is used to represent the 759th Military Police Battalion's participation in the Berlin Airlift.
The distinctive unit insignia was approved on 2 Oct 1952.