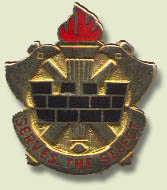 Combat Support Battalion Unit Insignia
Motto: "SERVES THE SELECT"
The flaming torch rising from behind the wall symbolizes the free city of Berlin and the "Wall of Shame" which sealed it off from the rest of the world from 1961-1989. The battle-axes supporting the torch refer to the Special Troops, Berlin Brigade, who were there to help safeguard its freedom.
Design approved January 19, 1967
This crest replaced the Special Troops Berlin crest in 1967. It was worn by soldiers assigned to Headquarter Berlin Brigade. After creation of the Combat Support Battalion those soldiers not assigned to 40th Armor or the Artilley battery wore this crest as well.