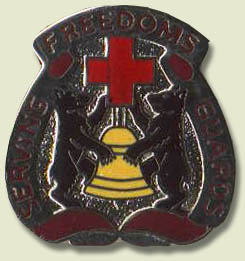 Medical Department Activity Berlin
Motto: "SERVING FREEDOMS GUARDS"
The cross is symbolic of medical aid. The black bear refers to the arms of Berlin, Germany, where the Activity is located. The bell represents the Freedom Bell located in the tower of Schöneberg Town Hall; altogether the cross and the bell between the two bears symbolize the words of the unit's motto.
Design approved May 26, 1976