The Barracks were named in honor of Field Marshal Bernard Law Montgomery *.
Overview
Location
The compound was located on Sakrower Straße in Kladow a subdistrict of the Spandau district.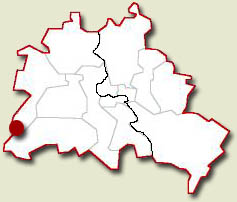 Map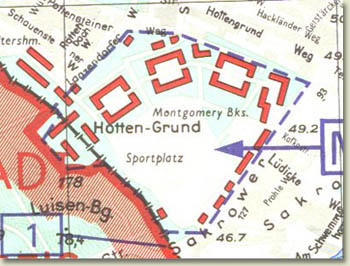 Pre Occupation Forces History
The compund was built between 1935 and 1939. It served as the Signal Shool of the German Air Force.
Occupation Forces History
After WW2 the soviets occupied the barracks for a short time until the british took over their sector.
The barracks housed one of the infantry battalions.
It featured several sports grounds, housing area and a shooting range. The border to the soviet zone went straight through a rubbled building located on the compound.
Post Occupation Forces History
On September 14th 1993 the barracks were taken over by the German Army again. It was renamed to Blücher Kaserne and became the home of the 1st Jäger Regiment until it's deactivation.
---
* Field Marshal Bernard Law Montgomery was appointed as commander of the British Eigth Army and successfully pushed back Erwin Rommel forcing the germans to retreat.
He let the invasion of Siciliy in 1943. He assumed command of 21st Army Group prior to the D-Day invasion and commanded it for the rest of the war in Europe.