Overview
Location
The compound was located on Gallwitzallee in Lankwitz a subdistrict of the Steglitz district.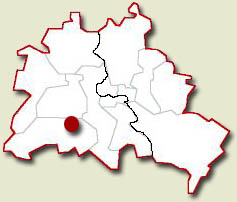 Pre Occupation Forces History
The barracks were home to the Lankwitzer Flakregiment 12 (12th Anti Aircraft Regiment).
Occupation Forces History
The compound was taken over from the russians in 1945 but only ruins were left over. The barracks were first named after General Patton. When another installation in western germany was officially named after General Patton the name was changed to Oliver Barracks.
The 16th Constabulary Squadron was stationed at the barracks until 1948 when it moved to Mc Nair Barracks.
Post Occupation Forces History
Today part of the old compound serves as a police station. Also located on the former barrack's ground is the St. Marien hospital.