The Barracks were named in honor of Brigadier General Theodore Roosevelt, Jr. *.
Overview
Location
The compound was located on Gardeschützenweg in Lichterfelde a subdistrict of the Steglitz district.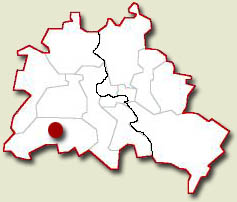 Map
Pre Occupation Forces History
The compound was built in 1884. It was the Prussian Ordnance Training School.
Occupation Forces History
In August of 1950 it became the home of the 6941st Guard Battalion.
Post Occupation Forces History
---
* The son of one President (Theodore Roosevelt) and the cousin of another (Franklin Delano Roosevelt), General Roosevelt served in both World Wars and earned every decoration available to a member of the infantry, including the Medal of Honor. At the time of the Invasion, General Roosevelt was Assistant Division Commander of the 4th Division and led his troops ashore on D-Day. He was the first General Officer to come ashore during the Invasion and earned the Medal of Honor for his courage and bravery on Utah Beach. General Roosevelt died in Normandy from a heart attack on 12 July 1944.